Explore with Me is a vibrant and engaging SESE programme with free fully integrated digital resources that encourage pupils to explore, investigate and understand their local environment and the world.
With the successful uptake of our Explore with Me Junior Infants to Second Class since our launch in 2019, we are excited to announce the release of our new Explore with Me for Third to Sixth Class.
The programme covers all strands of the SESE programme.
History, Geography and Science are given equal attention in the programme, ensuring a thematic and balanced approach to the teaching of SESE.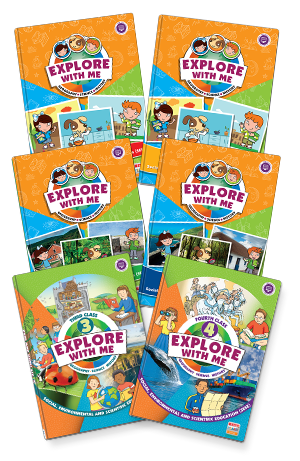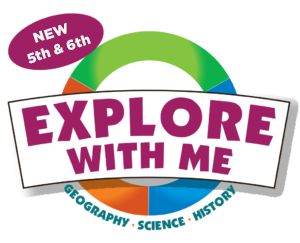 Explore with Me available from Junior Infants to Sixth Class is completely in line with the SESE Primary Curriculum and NCCA guidelines.
JUNIOR INFANTS & SENIOR INFANTS
Explore with Me for Junior Infants and Senior Infants has the
following components:
Pupils' Book
My Little Book of Posters (for use at home)
Teacher's Resource Book
Poster Flip Chart (10 posters per level)
Digital Resources
FIRST CLASS & SECOND CLASS
Explore with Me for First Class and Second Class has the
following components:
Pupils' Book
Exploration Copy – designed for extension activities
Teacher's Resource Book
Six stand-alone Posters
Digital Resources
THIRD CLASS TO SIXTH CLASS
Explore with Me for Third Class to Sixth Class has the
following components:
Pupil Book
Activity Book
Teacher's Resource Book
FREE Digital Resources
Junior Infants to Second Class
The programme is organised into ten themes at each class level; one theme is covered per month.
A spiral approach is used whereby themes are revisited to allow for extensive engagement with each topic. The same ten themes are explored in Junior Infants and First Class and also in Senior Infants and Second Class, while some themes are covered every year and explored in a different way.
Key SESE skills are targeted; the development of geographical, historical and scientific skills is a key feature of the programme.
Opportunities are provided for integration between the SESE subjects and other curricular areas.
Designing, making, investigating and experimenting are key features of science lessons; the programme ensures that hands-on, practical activities are undertaken regularly.
The programme is clearly laid out; each subject is colour-coded in the Pupil Book and the Teacher's Resource Book.
Colourful design, clear layout and a child-friendly font make the programme accessible to children of all abilities.
Each Little Explorer character is associated with a particular subject to enable children to differentiate between subjects. Sparky is the Little Explorer for Science, Erin represents Geography and Fionn is linked to History.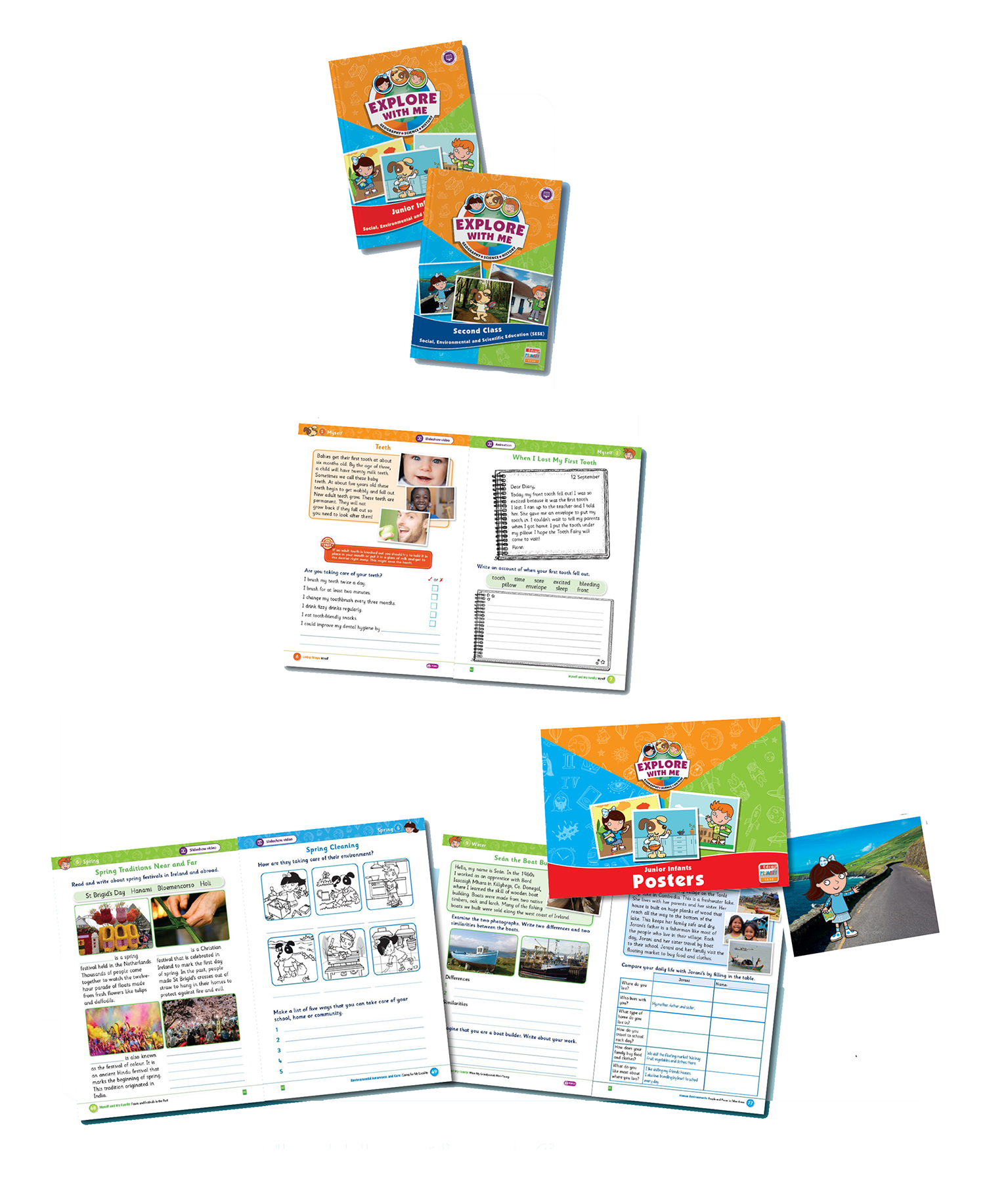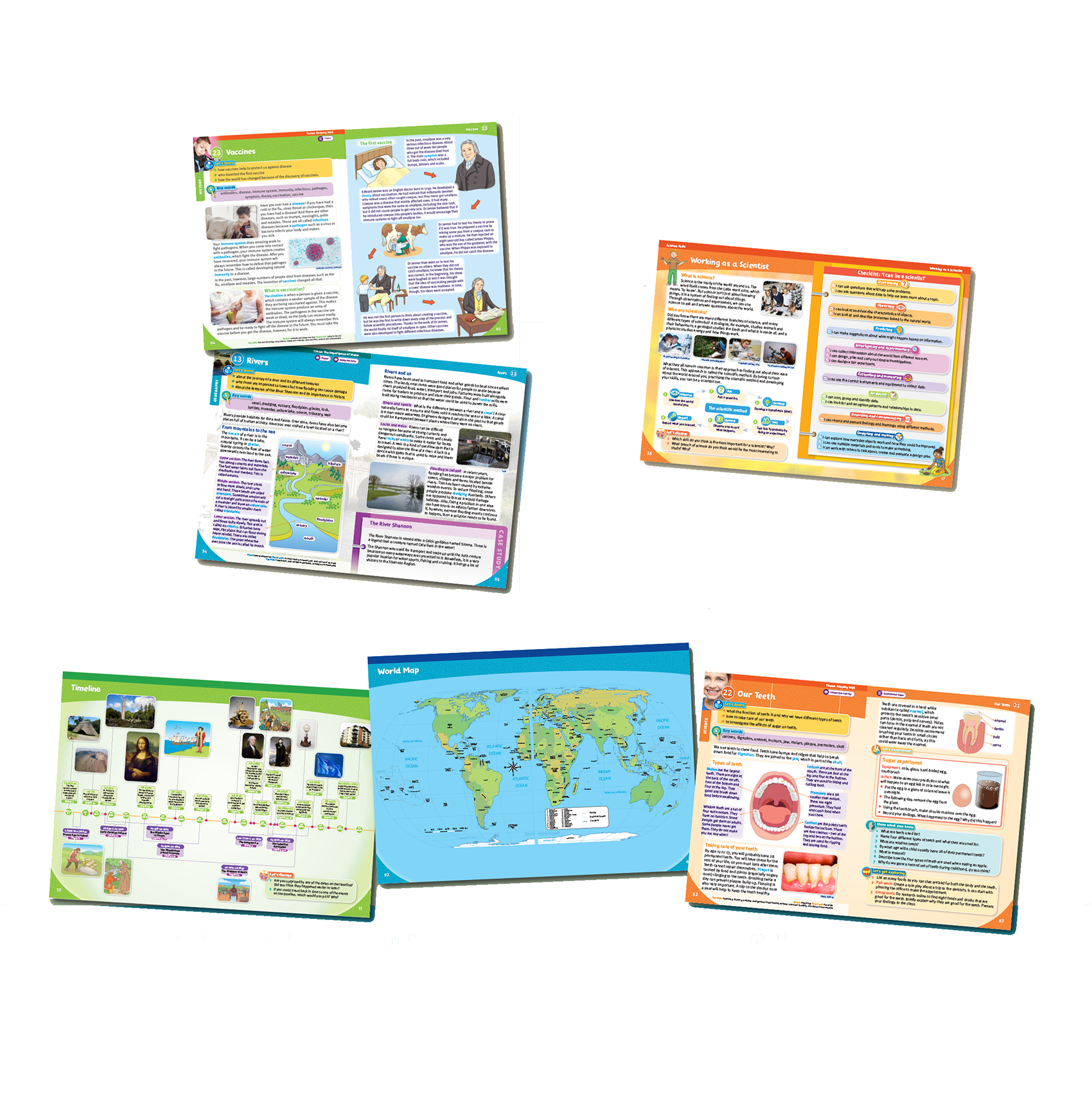 Third Class to Sixth Class
History, Geography and Science explored thematically in one integrated pupil book.
Each of the strands and strand units are arranged according to theme; monthly units are organised thematically.
The thematic approach strengthens pupil learning and supports the reinforcement of the theme.
Features a child-friendly layout with colourful pictures, clear diagrams and highlighted sections.
The material has been extensively reviewed by experienced teachers and contains differentiated questions for mixed-ability pupils.
Key words are highlighted at the beginning of each chapter.
Each chapter starts with the Learning Outcomes in the Let's Learn section giving pupils ownership over what they will be learning about.
Fascinating Facts sections are included throughout.
Let's Get Exploring! activities support skills introduced throughout the chapter.
Bright and easily identifiable icons are featured throughout to show
integrated digital resources.
Many Science chapters include Let's Experiment! sections.
The Show What You Know! section contains questions for revision.
Features an illustrated child-friendly glossary at the back of the book