TEACHER'S RESOURCE BOOK
Explore with Me Teacher's Resource Books provide a wide range of resource material to successfully teach and implement the SESE programme:
Yearly Plans, Curriculum Overview, Aistear Overview (Junior and Senior Infants), Monthly Plans, Individual Lesson Plans, Class Assessment Record (Junior Infants to Second Class) Photocopiable Masters (PCMs), Fortnightly Overviews.
To facilitate planning, the yearly, monthly, fortnightly and individual lesson plans are available in an editable format.
Individual Lesson Plans cover the following:

Curriculum Information Differentiation
Skills Assessment
Vocabulary Extension Ideas
FYI Integration
Resources/Equipment
Lesson Outline
Key Questions (Think like a Scientist, Think like a Geographer, Think like a Historian)

Photocopiable masters (PCMs) are included and referenced within the relevant lesson plan.
An easy-to-use monthly Class Assessment Record can be used to monitor progress using the tick, dot, dash system (Junior Infants to Second Class).
A KWL chart (First to Sixth Class) is available in both digital and
photocopiable formats.
Curriculum objectives are listed for each chapter (Third to Sixth Class).
A Guide to Virtual Field Trips is provided (Third to Sixth Class).
Contains STEAM activities for each chapter (Third to Sixth Class).
Features a differentiation toolkit and an assessment toolkit (Third to Sixth).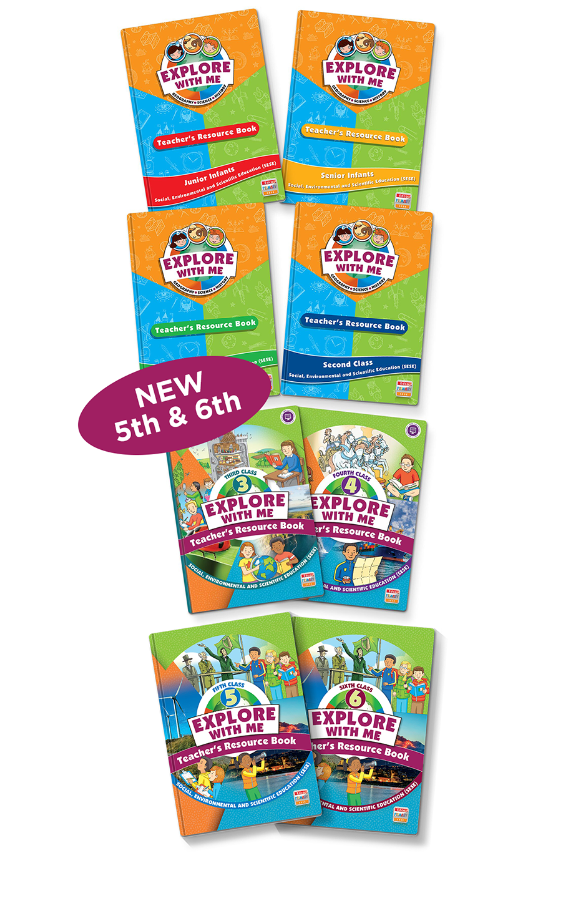 DIGITAL RESOURCES
Teachers can access the Explore with Me interactive e-books at www.edcolearning.ie, plus a bank of  free digital resources, including:
Fun and engaging thematic posters and end of unit quizzes to reinforce thematic posters and end of unit quizzes to reinforce thematic learning (Third to Sixth Class)
Exciting activities to consolidate learning
Interactive mapping zone for Geography
Videos, animations, audio clips, slideshows and PowerPoints to enhance pupil learning and engagement
Editable lesson plans and planning overviews